Azbuild Upcoming Events & News
WHEELED EXCAVATOR NOW HI-RAIL
Our 20t wheeled excavator has now been fitted with hi-rail gear, and approved for operation on the RailCorp and ARTC networks. This adds a new level of flexibility to a machine already proving its usefulness with both the sleeper-laying octopus (see video below) and rail threader.
RTAA/RailCORP FIELD DAY at clyde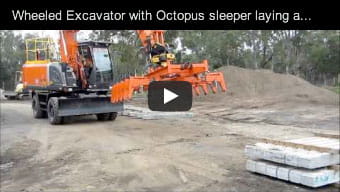 Looking for a fast, efficient and safe way to lay rail sleepers? Check out our wheeled excavator with octopus sleeper layer (see video link left) featured at the RTAA/RailCorp Field Days at Clyde, February 27-28.
The latest addition to the Azbuild fleet replaces the traditionally labour intensive manual lay process using a skid steer and manpower to lay sleepers, removing the need for constant close interaction between workers and machinery.
Those impressed with its work already include Steve Olsen, Construction Operations Manager with Taylor Rail Australia Pty Ltd.
"It's a fantastic machine that takes away the need for labour in the sleeper laying process. From and OH and S perspective it's a much better option."
Click the link above for a video of the machine in action, and email us here for further information.
The Azbuild team enjoyed the chance to catch up with industry colleagues at the RTAA/RailCorp field day held at Clyde. Click on images below for more detail.